There's a new Mario movie being released soon and Amazon is having a contest to promote it.
We independently research, test, review, and recommend only the best products from Amazon and other sites. If you buy something through our links, we may earn a commission.

The upcoming Mario movie is an animated film that is being produced by Illumination, the same studio behind the popular "Despicable Me" franchise. It is set to be released in theaters on April 5, 2023, and will feature a star-studded cast, including Chris Pratt as the voice of Mario, Anya Taylor-Joy as Princess Peach, and Jack Black as the voice of Bowser.
The movie reportedly follows Mario and his friends as they embark on a journey through the Mushroom Kingdom to save Princess Peach from Bowser's clutches.
Not much else is known about the plot or the specific details of the movie at this time, but it is definitely a highly-anticipated release for fans of the Mario franchise, especially my family.
So the contest prizes include tickets to Universal Studios Hollywood, 7" Bowser Figure or Amazon.com gift cards.
To enter, you have to register, which means giving up your name and email in exchange for a chance to win. But it's free and you can enter every single day.
Official rules can be found here.
I love these giveaways because the more you participate, the higher the chances you have to win.
The last time I participated in a contest like this with Amazon was the Prime Day Sweepstakes and I won a grand total of $400 in free Amazon gift cards.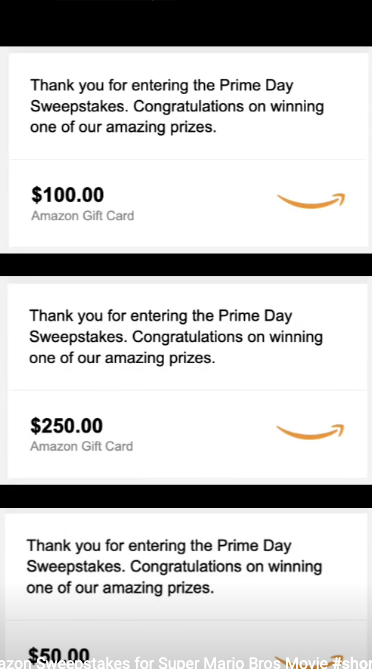 Free Amazon money is the next best thing to free cash. Am I right??
It's free and you can enter daily until the contest ends on April 30th, 2023.
Here is a quick video I did to walk you through how to participate.
When I first saw the preview for the new Mario movie, it seemed like ages away before the movie was to be released. 
I remember telling my son, April 5 is like…7 months away…and fortunately it was much harder for him to really comprehend how long that was away than me. 
Now we are less than a month away and yes, I did buy presale tickets on MAR10 day, which is March 10, and can't wait to take the family to see this movie in theatres. 
Don't forget to check out my Amazon Storefront to see all my favorite Amazon finds!